Okay, so that's a tad bit of an over-exaggeration. But I have been SO nervous since yesterday. Just that something won't go right. That our flight will be delayed, our car won't be ready, the hotel will lose our reservation, Ellen will say there's no more room….I'm freaking out! But hopefully as you are reading this I am flying high in the air on a plane listening to my Jillian Michaels podcast and holding Luke's hand and drinking a mimosa. Fingers crossed. And hopefully in a few hours we will land in LA and get our car and check into our hotel and get all dolled up and then just be able to fully enjoy the next 3 days with no stress. Say a little prayer for me that's what is happening! Can't you tell I am an absolute joy to travel with?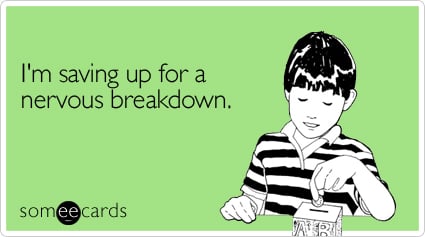 I don't have much to say right now since I am typing this Tuesday night and still in the middle of some serious butterflies in my stomach and all I want to do is watch some mindless TV and have a popsicle and go to bed since we're leaving at the ripe hour of 3:45 a.m. Yikes.
I hope you all have an absolutely fantastic next couple of days and I'll be back with ya Sunday!
<3